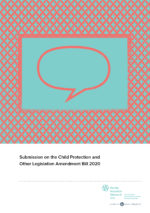 Posted 10-08-2020
FIN's comment - on the Child Protection and Other Legislation Amendment Bill 2020
On 3 August 2020 FIN Southeast Queensland made a Submission to a Queensland Parliamentary Committee - who were looking into yet another Bill proposing changes to the Child Protection Act (1999). It is FIN's hope that a more balanced system will emerge from this proposal.
In summary FIN's comments are:
The Amendment as drafted – which foregrounds adoption – must not proceed. That instead, the strong evidence base that already exists should be used to deliver a broad and flexible range of options – like respite for parents or joint guardianship - to achieve relational, physical, and legal permanency;

If amendments are made to the Child Protection Act (1999), let's instead amend Section 59 so that - if the court was not satisfied the Department had "taken all reasonable efforts to provide support services to the child and family" then it could refuse to make the child protection order;

We must ensure parents have a right to legal representation, embed this in the legislation, and expand the Legal Aid funding pool to meet this need;

The prescriptive two-year timeframe for 'permanency' should serve as a guide only, not be a fixed timeframe;

The Act should also be amended so that biological parents are afforded their right to apply to have a Permanent Care Order revoked;

It is not okay that the amendments risk the creation of yet further over-representation of Aboriginal and Torres Strait Islander children and young people in the child protection system, including in out-of-home care; and

It is not okay that the amendments do not seek the views of children and young people themselves. This is especially critical in permanent decisions such as adoption.